ANAHEIM DUCKS:
Your 2013-14 season: Second round exit. Actually thought they had a chance to beat the Kings, which was really just adorable. They even took the series to seven games, like a real team might! Of course, once they hit Game 7, this happened:
That isn't just losing; that is complete and utter annihilation. There hasn't been a train wreck that bad in that part of Southern California since The OC was on TV.
Your coach: Bruce FUCKIN' Boudreau. Probably among the best head coaches if you only count up to April 15 or so. Dude has a career 258-123-52 record in the regular season. In the playoffs? 23-28, and never better than a second round exit. The only Cup he's won to date was a 7-11 Big Gulp. To be fair, summer barbecue season ramps up around then, and he isn't fuckin' gonna waste his fuckin' time on hockey when there's some fuckin' ribs to be manhandled out there, fuckin' right?
Your starting goalie: John Gibson. Or, wait, maybe it's Frederik Andersen? Either way, the Ducks are going into this season with 31 games of NHL experience between two goalies. For a team that's relied on insane shooting percentages that are just begging to regress for the last two years, that level of goaltending can't instill too much confidence.
Your shittiest player: Clayton Stoner. What kind of team decides to make a four-year commitment on Clayton Stoner?! I suppose it is fitting when you consider that has to be the most Southern California name ever. Anyone named Clayton just sounds like a guy who will spend his off days on the boardwalk in a "SUNS OUT GUNS OUT" tank top hitting on teenage girls and throwing beer cans at rollerbladers. I'm pretty sure this is the reason both he and Dany Heatley signed here.
Why you suck in five sentences: Can anyone tell me what purpose the Ducks serve in this league? They're the ugly redheaded stepchild of California. They started out as a Disney marketing ploy, and have always been the second-most popular team in Southern California EVEN WHEN THEY WON A CUP.
The Ducks also lost Teemu and Saku Koivu, then added Ryan Kesler and Dany Heatley, presumably because the best way to get attention is to make everyone hate you. Imagine them on a line with Corey Perry; no one in the league offices would suspend opposing players for triple-concussing that!
Why you might not suck: They play hockey in the state of California, which pretty much guarantees you a top 3 spot in this division.
ARIZONA COYOTES:
Your 2013-14 season: No playoffs, but they made a name change! Now, instead of representing a city of people who couldn't care less about hockey, they're representing AN ENTIRE STATE of people who couldn't care less about hockey! This is what we would call a real game changer.
Your coach: Dave Tippett. The best boring coach in all of hockey. I'm struggling to think of anything interesting to say about him. He just exists.
Your starting goalie: Former third-string Olympian and five-time Oscar winner Mike Smith. One good season aside, his goaltending has been mediocre at best, but his diving game has been on point! Here is Smith's best technique at preventing goals at work:
By the way, the Coyotes backup is Devan Dubnyk, who managed to be the worst goalie on an Oilers roster that briefly featured Ilya Bryzgalov. So there's that.
Your shittiest player: Shane Doan. It's amazing to hear the ongoing narrative of TRUE CANADIAN CAPTAIN, EH BOY WHAT A LEADER THAT SHANE DOAN IS. He's made roughly 6,000 cheap shots in his career, but never gets caught. Then because he never gets caught, the leadership narrative flares up. Then because the leadership narrative flares up, he can basically murder opposing players as if he has diplomatic immunity. It is the weirdest cycle of narratives I've ever seen.
Also, Doan is 37, and is making $5.3M to put up his worst numbers since the days of that Coyotes jersey that looked like it came for free with purchase of any Old El Paso product.
Why you suck in five sentences: New ownership, new name, same shitty stadium in an Arizona exurb that no one will visit! The Coyotes have rightly recognized that no one in Phoenix will commute to watch their games, but expect Glendale residents to go visit the Thing That Is Throwing Their Tax Dollars Into A Giant Hole. Beyond the dozen actual Coyotes fans out there, the only people at any given home game are: (1) expat fans of whatever team is playing the Coyotes; and, (2) people who want to escape the desert and sit in A/C for three hours.
This team also lost two of its top six players, and replaced them with Sam Gagner and BJ Crombeen. Should go well for a roster that wasn't exactly world-beating to begin with.
Why you might not suck: Calgary and Edmonton are hopeless. Vancouver is still a clusterfuck. If the Coyotes get hot, they can bank wins against some truly awful teams and sneak into the playoffs.
CALGARY FLAMES:
Your 2013-14 season: Actually tried rebuilding the right way for once! Got the 4th overall pick and managed to not completely blow it with their draft choice. Other highlights included: making John Tortorella go insane; Sean Monahan being boring; and Brian Burke refusing to cut his hair. Say what you will about the Flames, but it was probably the most productive, relevant season they've had in over a decade.
Oh, you meant on the ice? Yeah, they still sucked. Real bad.
Your coach: Bob Hartley. I don't really *get* Bob Hartley. He's a not very good coach that basically lucked into a stacked team many years ago, and relies on that for coaching pedigree. Quick! Name one successful thing Hartley has done since the 2001 Avalanche! Literally just one…..*time passes*….BZZT! You can't. Nobody can. That one Cup ring is all he has. Bob Hartley was the Randy Carlyle of this league before anyone even knew who Randy Carlyle was.
Your starting goalie: Jonas Hiller. Was pretty much average behind a much better team in Anaheim, so this should totally go well. $4.5 million is quite the overpayment until you realize he's being paid to be better than Karri Ramo. That's all he has to do, which is basically the easiest job ever. The rest of the team will still suck, but Hiller will earn his inflated paycheque by not sucking as badly as the last few years of goaltending have sucked.
Your shittiest player: Deryk Engelland. Best known for punching lots of people and scoring 47 points in 243 career NHL games! His career high in one season is 17 points. AND he's making just under $3M a year to do that! The Flames have stockpiled one-dimensional goons like Soviet nuclear warheads (also not relevant since the mid-80s!), but at least Brandon Bollig and Brian McGrattan get paid around the league minimum to suck. Engelland is basically making premium dollar to give someone CTE. You also forgot he was a defenseman because nothing he has literally ever done in the NHL would remind you of playing defense.
Why you suck in five sentences: If you've never met a Calgarian, they're the worst. They're convinced their mediocre city is somehow world class, presumably because they've never actually travelled outside of Alberta. I've been to Calgary many times, and they have an okay downtown core you could find in any big city and a river; the rest is just a giant big box suburbia. BUT WE GOT STAMPEDE AND A DOME SHAPED LIKE A HORSEY SADDLE AND OUR STREETS ARE DIVIDED INTO QUADRANTS; WOOOOOOOO!
On that note, of course it took Calgary three years to figure out the Flames needed rebuilding after literally everyone else did.
Why you might not suck: They have decent young players and better goaltending, which might be just enough to narrowly miss the playoffs despite not actually really being in contention. I'd like that. The Flames are funnier when they think they have a chance.
EDMONTON OILERS:
Your 2013-14 season: So, you get on a roller coaster. The roller coaster remains level for a little while, maybe with a slight upward incline. Then, with almost no notice, the roller coaster just nosedives right into the ground and breaks in half. As you're left writhing on the ground in pain, a billionaire drugstore magnate approaches you, kicks you square in the balls, and takes all the money in your wallet. On the bright side, he promises that in a few years, he'll build the roller coaster in a nicer part of town and have someone less incompetent running the switches.
I call this roller coaster: "#HereComeTheOilers: The Ride." COMING IN FALL 20-EVERY YEAR OF EXISTENCE.
Your coach: Dallas Eakins. Career highlights include: being considered the most competent hockey coach in Toronto when his basis of comparison was Randy Carlyle. To be fair though, you or I could win that title just by making a perfectly good piece of toast. Career lowlights include: pretty much everything that's happened since leaving the more successful Toronto team. Eakins looks like an AHL coach in the NHL, although having AHL personnel doesn't help. Dude's just in over his head. Eakins' career ceiling is going to be the equivalent of trying to win Masterchef with ramen noodles on a hot plate.
Your starting goalie: Ben Scrivens. I can't say a single disparaging thing about The Professor. He's what I wish more pro athletes were like. That said, the thing he's most notable for in Edmonton is a 59 SAVE SHUTOUT?! Christ; the Oilers are going to kill this guy, aren't they?
Your shittiest player: Matt Hendricks. I remember back in Fall 2011 when I walked into an Edmonton sporting goods store. The clerk was a die hard Oilers fan, and was convinced the Oilers could actually make the playoffs. One of the reasons cited for this was Ryan Jones. The clerk then waxed poetic about how Ryan Jones was "good at Twitter" and "loved by fans."
The Oilers finished second last that season. Ryan Jones sucked, and is now gone. By the way, Hendricks is the prime contender to be the new Ryan Jones. And he's got three years and $1.85M in which to pull it off!
Why you suck in five sentences: The Oilers have managed to draft every young phenom possible because that's what sucking enough to land three No. 1 draft picks will do. Before the Hall/Eberle era, the Oilers were an awful 62 points, but with Hall/Eberle/Nugent-Hopkins/Yakupov/Schultz, managed to improve on that by FIVE WHOLE POINTS this year! The Oilers are trapped in a time paradox of continuous nonlinear suckage (/Doctor Who theme music).
By the way, this fanbase manages to convince itself EVERY YEAR that this is going to be the breakthrough season, what with these two three five six shiny young players here for the future! The fans are Charlie Brown, the Oilers are Lucy, and they always keep running right at that football.
Why you might not suck: The Oilers might have decent goaltending and depth players for the first time in roughly a century. They might even crack the 75 point mark this year!
LOS ANGELES KINGS:
Your 2013-14 season: Stanley Cup champions! Only required the Sharks choking (complete with a goalie interference goal in Game 6!), almost blowing their second round series to THE DUCKS, and then almost blowing it again to the Blackhawks before Alec Martinez dislodged a horseshoe from his arse in the OT of Game 7. Then they played whatever crud bucket the East churned out in what was basically a formality and still required three OT wins to make it happen. SUCH RESILIENCE. VERY DOMINATE. WOW.
TL;DR: unlike in 2012, the Kings' win was basically like getting a hole-in-one by bouncing the ball of two trees, skipping it off a water hazard, onto the green, and in the hole.
Your coach: Darryl Sutter. If you see one video of Darryl Sutter's career highlights, make it this one!
Your starting goalie: Jonathan Quick, who, with two Cup rings, continues to hold the title belt of Most Overrated Goaltender Of All Time™. Your reminder the Kings traded away two goalies in two years that finished last season with a higher SV% than Quick ON WORSE TEAMS.  He had a .911 SV% in the playoffs, which made him the seventh best starting goalie. He plays average behind the best possession team and one of the deepest bluelines in the league, yet the narratives wax poetic about Jonathan Quick as an elite goaltender. BUT HE HAS TWO RINGS. People who think Jonathan Quick are great also probably think Big Bang Theory is funny.
Your shittiest player: Captain Dustin Brown. He put up 27 points last year, is 29 years old, and is signed through 2022. How can this possibly go wrong?! But seriously, 27 points? I'm pretty sure Brown threw more elbows to the head than that last season.
Why you suck in five sentences: Being a Kings fan isn't even about hockey as much as it's a symbol of Hollywood social stature. At least half the fanbase is made up of trendy celebrities that have nothing to do because the Lakers suck. In spite of this, local media still can't pronounce anyone's name and still think the team plays basketball in Sacramento. Admit it, you all were happy when Vince Vaughn made Gretzky's head bleed. LA KINGS HOCKEY: CATCH THE STREAMERS FEVER.
Why you might not suck: Technically *did* still win the Cup last year. Also, the East sucks, and there's about two other teams that are legitimately as good as they are. One of those is the Sharks, so LOL. They have a decent chance to repeat and shove Quick down our throat for another year, all things considered.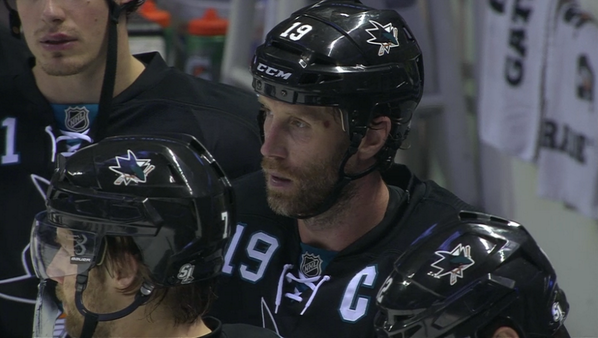 SAN JOSE SHARKS:
Your 2013-14 season: First round exit to the Kings in seven games, which I guess isn't so bad considering they won the Cup and….*whispers*….hold on. What? WHAT?! They were WHAT?!?!?! THREE TO WHAT?! HOW DO YOU EVEN?! HOW?!?!
The Sharks had a 3-0 series lead and needed to win ONE GAME OUT OF FOUR to win a bye to the conference final. I mean, sure, they'd have been eaten alive as their 1-8 conference final record suggests, but it's the principle of the thing. How do you blow that? That's like burning a microwaved burrito; you pretty much have to try to screw that up. The Sharks have had some pretty Shork losses, but this was by far the Shorkest.
Your coach: Todd McLellan. He was hired by the Sharks to be Not Ron Wilson. Consequently, the only reason he's probably kept his job is that he's basically a less scowly Ron Wilson. Recall that Wilson was considered the guy who couldn't get this team over that last hurdle, but here are Todd's Greatest Hits:
2008-09: Win Presidents' Trophy; lose in first round to THE DUCKS, then coached by a guy who doesn't know how puck possession or household appliances work.
2009-10: Make it to conference finals; get annihilated 4-0 by Blackhawks.
2010-11: Make it to conference finals after almost blowing a 3-0 lead to Detroit; get annihilated 4-1 by the Canucks.
2011-12: Lose in first round in 5 games to….St. Louis? LOLOLOLOL.
2012-13: Lose in second round.
2013-14: #ItWasThreeZero
I'll give McLellan this much: when the Sharks failed under Wilson, it was boring. This is just year after year of flaming train wrecks. I applaud Todd for finding new and innovative ways to Shork everything.
Your starting goalie: Antti Niemi. Pretty much the Pacific Division's answer to Kari Lehtonen!
Your shittiest player: John Scott. This is a useless plug that even the Buffalo Sabres wanted nothing to do with anymore. He is literally the worst player in the entire NHL. This makes no sense whatsoever. I bet Doug Wilson was just sitting in his office one day, thinking WELL LAST YEAR WAS BAD, BUT ALL OUR PROBLEMS ARE SOLVED NOW FOR WE HAVE JOHN SCOTT! *dusts hands together as house behind him crumbles to bits*
John Scott is below "below replacement level." He's basically a moving cinderblock that assaults people.
Why you suck in five sentences: The Sharks are in all honesty the third best team in the league behind LA and Chicago, so it's hilarious to watch management go hilariously insane over a playoff meltdown. They signed Scott, extended Mike Brown, and may consider trading Joe Thornton and Patrick Marleau. ENOUGH OF THESE GUYS NOT WINNING IN THE PLAYOFFS WE NEED HEART N SOUL N GRIT HURR DURR. To be fair to Sharks management, a foolproof way to not choke in the postseason is to try and make your team bad enough to ensure they don't make the postseason.
Also, their jerseys now look like teal pajamas, but they just breathe better, y'know?
Why you might not suck: Their roster, as is, is still top 3 in the entire league. I mean, they're always great on paper, so it doesn't much matter, but at least they tried to keep the hope alive!
VANCOUVER CANUCKS:
Your 2013-14 season: Missed the playoffs. Well, not just missed the playoffs; missed them in a spectacular blaze of dwindling glory. This team was the unbelievable train wreck version of the Canucks that 29 other fanbases waited so long for! Highlights included: losing roughly 100 straight games in January; their coach actually trying to kill a guy between periods; giving up a third-period touchdown to the ISLANDERS; and, finally succeeding in alienating Roberto Luongo not even a year after committing to him as a long-term starter. Miley Cyrus had a better year.
John Tortorella is now gone. As is Mike "Meat Sweats" Gillis, much to the applause of the same Canucks fans that were totally trying to convince you that he was the best GM ever three years ago. That was only ever true if the role of a GM is to look real drunk and whine about tampering and conspiracies.
Your coach: Willie Desjardins. I mean, he looks more like a leader of the provincial NDP than a hockey coach, but sure I guess. His resume includes being good in the AHL. I find it funny when teams hire successful AHL coaches thinking they've caught lightning in a bottle when it rarely pans out. Here is a list of recently great coaches hired directly from the AHL: Bruce Boudreau, Dan Bylsma. That's it. The Canucks being the Canucks, they could have actually hired Bylsma but chose Bylsma Lite instead. SAME GREAT AHL TASTE; ONLY ONE-THIRD THE CALORIES.
Your starting goalie: Ryan Miller, who signed with the Canucks this year. Let's take this opportunity to relive Ryan Miller's highlight reel in Vancouver, shall we?
Your shittiest player: Alex Burrows. Here is a list of all the things that Alex Burrows is good at:
Scoring goals deflected off him by the Sedins.
Biting.
Diving.
Hair-pulling.
Yapping in sometimes incomprehensible Franglais.
Losing fights to Phil Kessel.
Canucks fans continue to insist Alex Burrows is a SUPER PEST. No, he's just an embarrassment. Also inexplicably on the Canucks first line because the team has just given up on ever actually finding a talented winger for the Sedins. Remember Taylor Pyatt, you guys? Anson Carter?! Alex Burrows is the worst.
Why you suck in five sentences: This is the only fanbase where people brag about losing the Stanley Cup Final because it's literally all they have. I live in BC; despite insisting they're the Best Fans™, when April rolls around in a year the Canucks actually suck, NO ONE PAYS ATTENTION TO HOCKEY ANYMORE. Oilers fans may suck too, but at least they continue to care after their team is eliminated in mid-December.
Hockey-wise, the Sedins are only getting older while their offense slowly dies, and the Canucks no longer have any depth because Ryan Kesler is gone and their entire third line now plays for Toronto. Just look at the names in that bottom six; you don't even see names that obscure at any of BC's 800 yearly hipster summer music festivals.
Why you might not suck: With stable goaltending, new coaching, and a potential recovery year for some players, they could take advantage of a weak division and clinch a wildcard spot. Then they'd get thumped by a team from California JUST LIKE THE OLDEN DAYS OF OUGHT TWELVE THIRTEEN, YOU GUYS.