In this installment of 'Why Your Team Sucks', we fly from the east coast, over all the shit that doesn't matter (otherwise known as Conference III) to the west coast. The faraway lands of BC, Alberta, California, Arizona, and Washington State (coming in 2015, probably!). And the best part about realignment is how there aren't any CST teams in the Pacific Division anymore. Yeah, Dallas, I'm looking at you; that just really annoyed me for some reason.
Here's why your Pacific Division team sucks:
ANAHEIM DUCKS:
Yeah, I'll get the double cheeseburger, large fries…uh, better make that a Diet Coke….
WHY THEY SUCK: They're a luck-driven fraud. The Anaheim Ducks were the surprise story in the West in 2012-13. After a terrible year where they ended up firing their coach, noted idiot Randy Carlyle, midseason (that's good) and missing the playoffs by a lot (that's bad), the Ducks vaulted all the way to 2nd in the Western Conference. They went from the consensus last place pick in the Pacific Division to actually winning the whole damn thing. Man, this must really bode well for the Ducks going forward, right?
WRONG. The Ducks are what happens when dumb trailer trash wins the lottery and moves to an affluent suburb. Sure, they may have struck it rich, but it was by pure luck, and they're almost certain to squander their fortune on beef jerky and Busch Light. It's worth noting in the last four seasons, the Ducks have made two playoff appearances. Both were total flukes. In 2011, the Ducks basically rode Corey Perry getting 57 bajillion points from March onward to a pretty weak first round exit. In 2013, they won their division by shooting roughly 10% at even strength. Hell, it was higher than that for most of the season, and that got them a 22-3-4 start out the gate. That's fucking nuts. That's a winning percentage you'd expect from the '86 Oilers; do you really think the Anaheim Ducks are capable of that? Of course not, because once their shooting tailed off, they finished the season a pretty unremarkable 7-9-2. I'd wager 'unremarkable bubble team' is roughly a more accurate depiction of the Ducks than the best team that ever lived.
Which is fine, since they did what literally everyone expected them to do and bowed out of the first round to a real team. In fact, that the worst thing the Ducks did last year; because of their stupid second place finish, we were subjected to TWO WEEKS of fucking Red Wings fans being all 'WE ARE THE GLORIOUS UNDERDOGS.' Bullshit. Everyone and their grandma picked the Wings to win that series; the Ducks have to have been the most unspectacular second seed to have ever existed, and this is a team that shared a division with the '06 Dallas Stars.
But they can't rely on lucky shooting to vault them to the top again. Nope; not this time. For one thing, they finally proved they were TOTALLY SERIOUS about trading Bobby Ryan and sent him to Ottawa. Don't worry, though. They replaced with Dustin Penner, which is more or less like thinking silly putty is an effective food substitute. I give it about 6 weeks into the season before he's sidelined a month with an Aunt Jemima-related infliction. It seems like Teemu Selanne, who kicks 20-something ass at 42, probably won't be back this season. They managed to lock up Perry and Ryan Getzlaf to long-term extensions, which should bode well when they can't even afford to sign the half of their forwards that are free agents in 2014. By then, their bottom three lines will literally just be nine Glad bags of sand. Their main lynchpins on D are Sheldon Souray and Francois Beauchemin, and neither are getting any younger. Cam Fowler is probably one of the more unremarkable $4 million players in the league, and will likely still be the only redeeming quality of this defense in a year or two.
The Ducks turned luck into an unsustainably good record and a pretty lame duck playoff appearance. There's just no way it happens again. Their fans (what few they have) should probably just go back to watching USC football and reruns of The OC. This'll probably get ugly.
CALGARY FLAMES:
Your first star for the night….
WHY THEY SUCK: Ahahahaha. The good news is that with the trade of franchise hero Jarome Iginla, Flames fans can finally let go of the last lingering shred of hope they had for their team to be competent. Any sane franchise, of course, would've realized this fact three years ago once the team finally stopped making the postseason after an endless succession of first-round exits. The Flames' window ostensibly shut in 2004, and it took nine years for literally anybody in the city of Calgary to figure this out. Anything closely resembling reality was just too much for the Calgarian superiority complex to fathom. If you're from Calgary, everything in the city is perfect and can do no wrong, including (perhaps especially) the Flames. Calgary is probably the only city more uniroincally arrogant than Toronto, which can probably be explained by the fact most of Calgary is just displaced Ontarians looking for a payday in the energy sector. You could scrape a dead possum off the highway, put it in a Flames jersey, pose it in a photograph next to Naheed Nenshi, and Calgarians would declare it the best possum ever, and dedicate a whole POSSUM DAY to a piece of roadkill. Which is cool, because the Calgary Flames are basically just roadkill on ice.
If your team finished three points out of last in the conference, it's pretty hard to make it much worse, and yet the Flames did just that. Miikka Kiprusoff, who played like hot garbage last year, will be replaced at starter by Karri Ramo, who has a career .895 in 48 games and hasn't played in the NHL since 2009. They also managed to unload their most defensively responsible blueliner for Shane O'Brien, who will likely play about 10 games then be a healthy scratch until he drinks himself half to death at the Roxy on their first trip to Vancouver and misses the rest of the season. They also traded Alex Tanguay for the even worse but somehow more overpaid David Jones. They have $11.5 million tied up in Jones, Jiri Hudler, and Matt Stajan, which might actually be their first line if Mike Cammalleri gets injured. Their third line will probably consist of Lee Stempniak and Curtis Glencross, both of whom you forgot existed, and Blair Jones, who you probably didn't know existed. With this roster, you would think this team is trying to tank for the first overall pick, and then you remember Jay Feaster is running this team and he really is just that stupid. This is what happens when you hire a guy who can't even figure out how the fuck offer sheets work.
I've barely talked about their defense, because there isn't much to talk about. Their first pair is Dennis Wideman and Mark Giordano, which is a sentence no self-respecting team should ever have to utter. Two of T.J. Brodie, Kris Russell, Chris Butler, and O'Brien will be second-pairing defensemen. Their defense that allowed 29 shots a game last season has somehow probably gotten worse. There's really no way that this team won't allow about 4 goals a game next year. They could probably use a real 1D, but ask them about the one they traded away three years ago- the only remaining piece of which Calgary still has being Matt Stajan- and they'll vehemently deny it. At least they'll kinda sorta admit they got hosed now, but only with the addendum the guy they shipped away wasn't 'good in the room' or something. That Dennis Wideman, though. GREAT GUY IN THE ROOM AND WORKS HARD N' STUFF, I'm sure.
The sad thing is, in spite of how awful this team is on paper, and that all roads seem to lead to the Flames being the consensus choice to tank for the No. 1 draft pick, you just know in the back of your head they will somehow fuck that up, too. They'll be basically eliminated from the postseason by Christmas, but you just know at some point in March, Cammalleri will start scoring lots of goals, one of Ramo and MacDonald will get hot, and they have an easy enough schedule to start stringing together some wins. In the end, they'll do just enough to finish something like fourth or fifth-last. Of course, if you've looked at the Flames draft choices lately, you know they'll probably just blow the pick on some no-name three rounds early because GRIT, so maybe it's better they don't get first overall. It's like taking away scissors from the kid who sniffs paste; it's just the right thing to do.
At this rate, the Flames should probably just be thankful there isn't relegation, because I'd say there's probably two or three AHL rosters that could beat them. Hell, if they played their WHL arena co-tenants, I'd take the Hitmen in that game 11 times out of 10. As a Leafs fan, I would feel their pain having been through a lot of this myself, but after seeing Calgary spend years thumbing their noses at us, it's just hilarious to see them hit rock bottom in an eerily similar way. If you like schaudenfraude, you'll love the 2013-14 Calgary Flames!
EDMONTON OILERS:
It also looks like the face of a pitching wedge, which is equally fitting.
WHY YOUR TEAM SUCKS: Next year is always a year away, guys. Every team's fans have a different way of dealing with perpetual failure. Habs fans burn their city down, Leafs fans drink themselves into a stupor and yell at each other, Canucks fans pretend their team doesn't exist, Jets fans give themselves five more years of Ondrej Pavelec. Oilers fans, however, are a different breed. Never has a team so awful have fans act so blindly optimistic for a distant future we're not entirely sure exists. We're talking about a team that lived its last glory day in 1990. Good in the 1980s, pretty terrible since; the Oilers are basically the Kansas City Royals of hockey, and yet people actually get hopeful about them.
ALL THOSE NO. 1 PICKS YOU GUYS! Well yes, it takes a special kind of suck to be bad enough to be given a first overall pick three years in a row. I don't really know how that's a good thing; it's pretty much like being given a two-minute head start for a 100m dash. To be fair, they have some pretty good players in Taylor Hall, Jordan Eberle, and Ryan Nugent-Hopkins. In fact, those are the only players on the Oilers roster remotely decent at puck possession on what was the worst possession team last year, but they also all play on the same line. They do have Nail Yakupov, who can reasonably be expected to take a sophomore slump, especially since you can't really expect a 19-year old kid to shoot 21% again. The Oilers are going to be a one-line team, which is totally great because it's not like any half-decent team doesn't have the tools necessary to shut down one line.
NEW COACH YOU GUYS! Yeah, Dallas Eakins has a pretty spectacular track record in the AHL. But getting optimistic about a guy before he's even coached an NHL game? AHL success doesn't instantly equal NHL success. For every Bruce Boudreau or Dan Bylsma out there, there's a Guy Boucher, Glen Gulutzan, or Davis Payne. Of course, you can't blame Oilers fans for being excited about a new coach since it's become a yearly tradition in Edmonton. This is their fifth head coach in six years, and precisely none of the predecessors have gone on to a head coaching job in the NHL afterwards. Holy shit, the Oilers go through coaches like a teenage boy with unrestricted internet access goes through tube socks. If anyone's gonna fuck up what seems like good coaching, you know it'll be Edmonton. On the bright side, Eakins has a penchant for fitness, which makes it good news that Theo Peckham is gone. I'd have expected him to slap a 'FAT' sticker on Peckham's ass in training camp after he couldn't even do a push-up.
MOAR D YOU GUYS! Fans seem pumped on Andrew Ference providing some of that VETERAN LEADERSHIP because apparently intangibles are a solid substitute for never watching him play. He could easily slot in as first pair D on the Oilers, which is hilarious because most Bruins fans would tell you he doesn't even belong on the second pair. They have four more years of Ladislav Smid, and…wait, Denis Grebeshkov is back? When the hell did that happen? Oilers fans can be reasonably assured all of their D is better than Ryan Whitney, but that really isn't much of an accomplishment at all. They're lucky Devan Dubnyk is a pretty good goalie, but no one will ever notice since he's effectively standing behind a group of subway turnstiles in net.
MOAR DEPTH! What? Acquiring David Perron for another 40-something points? He'd be a decent second-liner, but hasn't even played more than 57 games a season in the last three years. He is quite possibly Quebec's answer to Tim Connolly. Signing Boyd Gordon for $3M? Are the Oilers that desperate for a fourth-line centre who can actually hold on to the fucking puck? The guy's career season is 29 points and that was six years ago. Ryan Smyth is old as balls; Mike Brown is another Ben Eager minus the part about being a terrible human being; Ryan Jones wouldn't crack another NHL roster, but Oilers fans love him because he works hard and tweets funny stuff or something.
NEW ARENA! Yeah, enjoy dropping half your paycheques into a hole to pay for that for the next two decades, Edmonton! Your owner played you like a fiddle by bluffing to move the team, and your city council totally fell for it. I understand the need for a downtown arena, since the neighbourhood Rexall Place is in is only really a nice location if you want to get stabbed or buy meth. But it's hilarious that a billionaire drugstore owner is making everyone pay for it, and acted like a petulant child threatening to take his ball and leave if he didn't get his way.
Edmonton gets an 'A' for unbridled optimism, but an 'F' for on-ice effort. This fanbase effectively keeps itself alive by a combination of reminding itself of nostalgia for its past relevance and a future that might not happen. There are currently Edmontonians graduating from university that weren't even born the last time the Oilers won a Cup, but that won't stop them from lording their five rings over your head. Meanwhile, every year there is some reason we should expect a breakout year; guess you need something to believe in when you're stuck with six months of winter and a shitty hockey team.
LOS ANGELES KINGS:
Long live the Burger King!
WHY THEY SUCK: It isn't 2012 anymore. Congratulations again to the Los Angeles Kings for their one moment of shining success in 46 years of existence, and inspiring people in LA to once again care about hockey for the first time since the early 90s. I mean, sure, most of the city's reaction a day after winning the Cup was like "Oh, that's cool I guess. Who'd the Lakers get this year?," but it was inspiring well it lasted. Yes indeed, America's second-biggest city and most traffic-congested butthole and its vapid, soulless residents could truly rally behind such stars as Brad Doty and their beloved purple-and-black, which is why the Maloofs shouldn't relocate them to Seattle. It was the best thing to happen to the Kings since Kerry Fraser contracted temporary blindness in a 1993 postseason game, at which point Gretzky getting away with murder enabled God Mode in a way that would make OJ Simpson jealous. That, however, didn't end as well, since they lost the Cup in 5, losing 4 games as straight as Marty McSorley's stick wasn't.
The 2013 season was a more forgettable relative of 2012- the Brent Gretzky of LA Kings history, if you will. They stumbled out of the gate during their Stanley Cup hangover, which is usually metaphorical unless your team has Jeff Carter and Mike Richards on it. They ultimately made the playoffs, but it was a pretty underwhelming run. They nearly lost to St. Louis in the first round before beating them in a Barret Jackman staring contest. Sure, they beat San Jose in the second round, but: (a) it took seven games, and; (b) literally anyone can beat the San Jose Sharks in May. That's like bragging about hooking up with the drunkest girl at a party, which Drew Doughty might actually do, I'm not sure. Once they faced a real team in the Chicago Blackhawks, they were quickly embarrassed and sent packing.
Sure, you can expect the Kings to be good again, but look at their division. They've been gifted two Alberta teams and a declining Canucks squad to beat up on. The Ducks are going to regress from a lucky year, the Sharks are just getting older and collecting cobwebs, and the Coyotes are just kinda there. That alone can just get them through the first two rounds of the playoffs again. Once they face Chicago again, or any number of beasts in the East, they're effectively done for.
For one thing, fuck Jonathan Quick. Is there a more overrated goaltender in the NHL right now? He was able to ride the laurels of being immortal in 2012 that everyone quickly seemed to forget he put up a .902 in 2013. Seriously, a .902. For starting goalie SV%, he was nestled comfortably between Semyon Varlamov and Ilya Bryzgalov. Seriously, Ondrej fucking Pavelec had a better year. Sure, he put up better than .930 in the postseason, but so did five other goalies. But, everyone is still going to peg him as the consensus starter for the US team and perennial Vezina goaltender for life regardless of how good or shitty he does. He can ride that one remarkable playoffs to never having to play well again. He's the '85 Chicago Bears of goaltenders.
Not much has changed with the Kings roster. Dustin Penner has been replaced by Matt Frattin for a fraction of the cost because the Leafs GM is an idiot. And Ben Scrivens will go from wearing a ballcap and riding the pine behind a pretty underappreciated goalie to doing so for the exact opposite. That's really about it. They lost Rob Scuderi, but can probably replace him with Willie Mitchell provided he doesn't sneeze and break every bone in his body since there is probably no one else in the NHL being held together by more duct tape. This will probably yield a predictable result in Tinseltown: no Cup, no one cares.
PHOENIX COYOTES:
Mike Smith, in his usual form.
WHY THEY SUCK: I can't decide if they're worse on or off the ice.  A lot of teams can be great on the ice but poorly managed; the Devils won three Stanley Cups despite being broke as fuck most of the time. Other teams can be huge draws, but offer an absolutely terrible on-ice product; look no further than the Leafs. The sad thing about the Phoenix Coyotes is they really offer neither. They're a generally terrible team that play in a market where they bleed money and nobody wants to watch them. They basically have no redeeming qualities whatsoever.
The Coyotes are a curious case. They do big boy things like extend Oliver Ekman-Larsson until well after the franchise inevitably relocates for $5.5M per, or sign UFA Mike Ribeiro (!!) for the same price. Yet, they needed to be owned by the NHL for four years because literally nobody wanted to buy them. They are a sinkhole of money that never does better than third-last in overall attendance, and averaging 14,000 fans a game is a good year. Meanwhile, the City of Glendale actually keeps paying for this shit because apparently having a hockey team around that nobody watches is more important than properly funding things like a police force or road maintenance. The lone redeeming quality is that tickets, a beer, and a hotdog cost roughly about as much as a house in Detroit. The Coyotes are the ugly redheaded stepchild of the NHL, and only exist because Glendale elected people who could somehow fuck up at Sim City without trying.
On the ice, they're even more of a nightmare. In seventeen years in Arizona, they've managed to make the playoffs less than half of that. They've had just four playoff appearances in the last thirteen seasons. They've only won a playoff series twice in their existence, both in 2012. That, by the way, was only because Mike Smith played unsustainably well for an entire year. Notice that, with an almost identical roster, the team bellyflopped when Smith was merely average. When your team being good is entirely contingent on Mike Smith of all people being a .930 or better, that basically means you have no hope whatsoever.
Since the Coyotes can afford to only pay so much salary, and hilariously blew money on Ribeiro, they're a pretty top heavy team. The rest of their roster is essentially made up of bit parts their former teams didn't really want anymore: Antoine Vermette, Radim Vrbata, David Moss, Kyle Chipchura, Brandon Yip, Rusty Klesla, Derek Morris. The Coyotes are basically a Value Village for third-liner retreads.
The good news is that Phoenix won't be totally hopeless this year. Moving into a division with three Canadian teams means more revenue when all their fans show up for games, as opposed to the usual crowd of 7,000 just there for $2 beer and free A/C. Moreover, the very existence of the Flames and Oilers means Phoenix has a fighting chance at putting together a respectable record. That said, they're still in for a forgettable season of no real success, wasting away another year. You know those loveless marriages where the person really doesn't even like their spouse, but is afraid of what might go wrong if they were to leave? That's basically the Coyotes' existence in Glendale. They're fucked.
SAN JOSE SHARKS: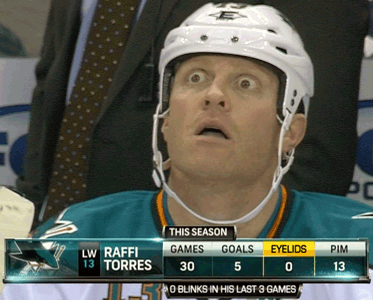 I think this is a Raffi Torres headshot we can all get behind.
WHY THEY SUCK: Different year, same shit. The San Jose Sharks really are the Groundhog Day of the NHL. Every year, they put together a respectable regular season, maybe win a playoff series or two, usually against pretty underwhelming teams, then get walloped before even having the chance to really compete for the Cup. They have two Conference Final appearances to their name, of which they sport a solid 1-8 record. Fans of Western contenders should probably root for the Sharks to make the Conference Final, since it would ensure their team a bye to the Cup Final should they get there.
This year will be the end of an era for the Sharks. Their old-as-balls core of Joe Thornton, Patrick Marleau, and Dan Boyle are all up for UFA in 2014. Now that Detroit has packed their tinfoil hats and moved east, they are the oldest team in the West, and it's likely two or more of those guys won't be back next season. No worry, though! They have some promising younger guys….like Joe Pavelski and Brent Burns, who by next season will be 30 and 29, respectively. Sure, that's not 'tying an onion to your belt' old like the Sharks have now, but the Sharks do have two guys likely past their peaks signed to pretty long-term deals. That's like being a chubby guy pointing to the morbidly obese man on a scooter at Walmart , and saying "SEE? I'M NOT FAT!" They do have a solid future franchise player in Logan Couture, a decent young blueliner in Marc-Edouard Vlasic, and…..uh, well, I'm not quite sure what else.
The worst part is the one thing the Sharks had going for them was at least being likeable, and now they're trying to piss that away, too! This is the plucky underdog team that won all our hearts by making Canuck fans cry last spring, and pissed off Red Wings fans twice before that; what's not to love? Well, a lot when you sign players who are pieces of shit. It was bad enough when they signed Adam Burish in 2012. It got even worse when they picked up noted shitbag Raffi Torres at the deadline. Their biggest offseason acquisition is Tyler Kennedy, who may actually be ManBearPig. Also, I'm pretty sure Kennedy has just been a ghost since Luke Schenn ended him in 2009. Deep down, when you root for the Sharks to do anything good, you know you'll be rooting for those guys and….it just feels so, so wrong. They may as well just bring back Dany Heatley and Ben Eager while they're at it.
Don't get me wrong, the Sharks will have a decent year. Their division got a lot easier, and the Ducks will crash to earth. They're basically fighting with LA for the division title. Also, having a bunch of old guys in a contract year means one of them is bound to have a crazy good season that will hilariously fetch them too much money and term in free agency. In the end, you know the result will be the same; being a good, but not great team, that will eventually get its ass beat up in the postseason.
VANCOUVER CANUCKS:
The linesman was not all that appreciative of Kesler's Shakespeare performance.
WHY YOUR TEAM SUCKS: Same whiny losers, just one year older. You may say the Canucks' window is still open, but there's two glaring inaccuracies there. First, I wouldn't call it a window, because windows can be pretty big. I'd like to think of it more like a mail slot, since nothing substantive could possibly fit through it. Second, and more importantly, the Canucks' mail slot was only really open in 2011, and was shut promptly by Tim Thomas before he rode off into the night in a minuteman uniform among the post-apocalyptic wreckage of what used to be downtown Vancouver. Basically, it was kinda like Mad Max, but really douchey and not at all cool. Sparknotes version: the Canucks had one shot at glory, blew it hysterically, and have since been relegated to playoff also-ran status, which will surely be their ceiling this season.
The Canucks are basically the Red Wings of a few years ago, minus being able to win anything. They thrived by beating up on a completely incompetent division which was adequately hiding just how old as balls they are. Their prize ponies, the Sedin twins, are 32 this season and their regular season offense is in the beginning stages of falling off a cliff. I'd calculate the same for the postseason, but dividing by 0 is impossible. Their starting goalie is 34 and really doesn't want to be here after fans and management tried to run him out of town until realizing no one would take his contract. Their youngest core player is 27. They actually have nobody even remotely promising under the age of 25, which should probably bode well for the future.
Even worse for them, Vancouver no longer gets to beat up on an easy division. Realignment shipped out Minnesota and Colorado for three California teams that are all probably better than the Canucks. Los Angeles and San Jose have feasted on the corpse of the post-2011 Canucks like buzzards, while Anaheim played the Canucks pretty hard last season, too. The rest of the division isn't much of a joke, either; Edmonton, while still shitty, is young and trending upward. Phoenix could play stiflingly boring hockey en route to another playoff appearance, as it did 2009-2011. The Canucks days as a contender are over; they'll likely either finish fourth and 4-and-out to a California team, or get the 5th place crossover and do the same to the Blackhawks.
Of course, most teams' fanbases would accept this with a modicum of personal responsibility. But no, not the Canucks! Canucks fans are like that obese guy who sues McDonald's for making him fat because all he does is sit around and eat Big Macs. Everything is someone else's fault. Lose 4-0 to the Sharks? Well, the refs wanted the Sharks to win! They, of course, have little evidence to back this up aside from the Sharks getting more powerplays in a small four-game sample. But that isn't really surprising since the culture of whining about officiating is totally engrained in Canucks culture. 2011 saw their GM, coach, and PR team all simultaneously whine about reffing despite the fact they dove their way through three rounds. If you don't think Canucks fans are perpetual whiners, ask yourself this: what other team has ERECTED A STATUE of a coach bitching about reffing?! Exactly.
The irony in all this is that the 2011 Canucks were pretty similar to the current Washington Capitals: take a dive, get a call, score on the PP. Pretty much their entire gameplan was to set it up to have the Sedins score on the fucking powerplay because god forbid they have to enter the defensive zone ever. Once their reputation was solidified by embarrassing themselves with incessant diving, the calls dried up. And so did their ability to ever score goals. But hey, that totally must be the fault of the refs, YOU GUYZ!
Under normal circumstances, the Canucks would be totally pointless and boring to watch this year in this division. The Kings are better, the Sharks the more loveable playoff losers, the Oilers more young and exciting, the Flames more hilariously awful. They would be, that is, were it not for their coach. That's right, guys; John Tortorella is here to right the ship! The defensive-mindingest, shot-blockingest, net-collapsingest coach is here to save a team that has trouble scoring goals, because that worked so well in New York. Honestly, Vancouver and New York switched coaches despite having the exact same problems! It's like an episode of Wife Swap where the two husbands married identical twins. Torts' main difference is he wants to encourage the Sedins to block shots and kill penalties, which should go about as well as you would expect it to. By December, we'll see Daniel on the fourth line, while Henrik gets press box duty. That said, he'll be comedic relief resulting in endless tinfoil hat and feigned outrage columns from the Vancouver media. I mean, not that they wouldn't happen anyways, they'll just be funnier.
The Vancouver Canucks are older, worse, but still whinier, and with an even more hilarious coach who won't actually fix anything. Hold on to your towels, guys; dis gon' get goooooood.